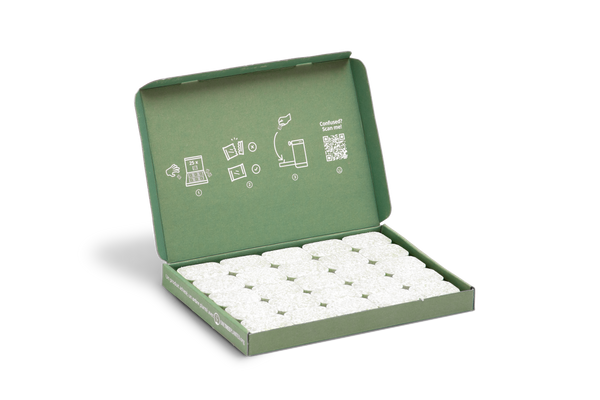 Dishwasher tabs
Batmaid Club dishwasher tabs are your go-to, everyday tabs. They're free of chemicals like phosphates, phosphonates or preservatives. Thanks to their powerful formula, your dishes come out spotless every time, even without the use of additional rinse aid.
One pack contains 25 tabs and fits in your letterbox.
Save even more with our Bundle.

Subscription can be cancelled anytime.
Ingredients

5-15% Oxygen-based bleaching agents
> 5% Non-ionic surfactants, Polycarboxylates, Enzymes, Perfumes
Organic eucalyptus essential oil
Free from phosphates / phosphonates / preservatives
> 94% Natural ingredients
> 96% Biodegradable
Check our FAQ for more details
Instruction of use
Our tabs are water-soluble. Simply place the tab in the detergent compartment without removing it from its packaging. That's it: rinsing liquid and regenerating salt are included ! Your tableware will shine bright.
More information
Free Shipping
Tired to find out at the checkout that your shipping fee costs as much as your total order? We hate that too. That's why we offer free delivery.
Powerful formula
Small and efficient. Our tabs quickly dissolve, making them efficient for low temperature and short cycle. Here goes your energy saving impact!
Carbon footprint neutral
We have a carbon minimalistic approach within our supplychain. However the perfect zero emission isn't possible (yes, we do breathe!) hence we decided to partner with One Tree Planted! For every product sold, one tree is planted ! Ain't that cool?
Frequently asked questions.
What's my frequency ?
We recommend the following:

1-3 weekly machines - every 8 weeks
4-5 weekly machines - every 5 weeks
6-7 weekly machines - every 4 weeks
8+ weekly machines - every 3 weeks
How does the subscription work?
You can choose one or several products for your monthly subscription. We have new releases coming soon, so you'll get all your essentials in one place!
PS: if you take the bundle, you save even more :)
How is the subscription payment handled ?
Payment is by credit card. We charge a couple of days prior to the shipment of your next delivery. Once the payment is received, we ship your next delivery. If at any moment you'd like to change the frequency and/or the product of your subscription, just log in and change in your account.
How does the replanting a tree program work ?
We have partnered with One Tree Planted, an NGO that plants trees on 4 continents on behalf of our customers. One product ordered equals one tree planted. So a monthly subscription to our laundry and dishwasher tabs, means we're planting 2 trees a month on your behalf, which represents 24 trees a year. Doing good has never been easier no? Even better, you can choose the forest in which you'd like to plant your trees.
How are you products better for the environment?
Glad you asked! Our tabs are made of more than 90% biodegradable and natural ingredients. We don't have any animal products, nor been testing on animals. Our packaging is 99% recyclable, the 1% remaining is a safety to make sure you receive your product in your letterbox. They're manufactured in France and comply with the European Ecolabel specifications.
Do I have to be at home for my delivery?
We understand you're busy and not always at home. That's why our packaging fits in your letterbox, which means you don't have to pick it up during post opening hours.
What is the product made of?
We know, it can be overwhelming, hence we have break it down.
Powerful stain removers against stubborn stains. They are also effective as whitening and deodorising agents.
Disperses safely in the environment
Seals greasy dirt and traps it for removal in water.
Natural degreaser, but also deodorizer and whitening agent.
These proteins target and break down stains of organic origin to facilitate their removal.
Prevent dirt trapped during washing from settling back.
Disperses safely in the environment
Stain removers against encrusted stains, also effective as a whitening and deodorising agent.
Alkaline pH-maintaining agent to improve the action of surfactants.
Disperses safely in the environment
Our dishwasher tabs comply with the European Ecolabel specifications.